Cherry Creek Jasper, AKA Red Creek Jasper, was recently discovered and the material has been making its way into the hands of lapidary artists and international cutting houses. If you're lucky enough to purchase this Jasper then you need to know it is great material for cabochons, beads, and figurines because it takes an excellent polish. These beautiful stones offer excellent Autumn/Fall color combinations for jewelry. These beauties look amazing wire-wrapped in copper-colored wire, making them an excellent choice for pendants, necklaces, and earrings.
FAQs For Cherry Creek Jasper
Jasper is considered a member of the Chalcedony family which is a form of microcrystalline. Most, if not all of the Jasper you interact with will be opaque and the colors exhibited will be solid hues which are caused by various mineral impurities. If you're wondering which mineral impurity causes the red hue in this Jasper then you can blame the iron inclusions.
Sometimes rock and gem collectors ask me where the name Jasper came from and the answer is it comes from the Greek term meaning "spotted stone."
Like many stones, most Jasper gets their name from their appearance or location. Cherry Creek or Red Creek Jasper are both names used after the area they're mined from in China. It's primarily sourced from the Cherry Creek Mine near Red Creek.
Technically speaking, Cherry Creek Jasper is comprised of Chalcedony, Silicate, and Quartz. Each specimen displays various colors, including red, orange, yellow, green, blue, or brown.
According to the Mohs Hardness Scale, Cherry Creek Jasper has a hardness level of 6.5 to 7, but some stones may be on the softer side. If you're attempting to cut this material then I'd recommend you start off with the 260 grit as a test to see how hard your material is.
What Is Cherry Creek Jasper?
Cherry Creek Jasper or Red Creek Jasper also goes by another name, Picasso Jasper. These beautiful veiny stones come in a wide variety of colors and brecciated patterns. While they're typically referred to as Jasper, it's not a Jasper in the true sense because its primary component can also be Dolomite, not just Chalcedony. Similar to most Dolomitic rocks and Jaspers, they would have formed from sediment laid down by Ancient Oceans.
This material is rich in colors like red, orange, and brown shades. Usually, the primary segment is a ruddy or brick-ish hue that's typically coupled with olive greens, mustard yellows, and similar semi-muted earthy tones.
The patterns you'll see in this material will range from bands to mottling, and striations. Some pieces will have mostly one color while others will have unique patterns. Just know, each piece will be unique and different but all of it is Cherry Creek Jasper.
Where Is Cherry Creek Jasper Found?
While Cherry Creek Jasper has only been on the market for a little over a decade, it has become incredibly popular. This beautiful Jasper is mined in China and was named for the creek that flows through the area where it was first discovered. While the primary source of Cherry Creek Jasper is China, there are noted deposits in South Africa and Utah.
How To Identify Cherry Creek Jasper
Upon inspection, you can identify Cherry Creek Jasper by looking for the softly muted shades of olive green, mustard yellow, and burnt red. You'll find striking patterns that resemble an incredible picturesque sunset created by the brecciated patterns. Some of the cabochons, slabs, and rough will exhibit landscape-like scenes and other picturesque images.
Another way to identify Red Creek Jasper is to check for magnetic attraction. Most forms of Jasper show a very strong magnetic susceptibility due to the high concentrations of iron present.
Cherry Creek Jasper Value
On average, rough specimens of Cherry Creek Jasper are selling for about$10 to $12.50 per pound. Small polished pocket stones currently sell for between $8 to $10, but that all depends on the shape and size. We just saw a 2.2-pound polished Cherry Creek Jasper Tower on sale for $55.
Here's a great place to buy Cherry Creek Jasper.
Keep in mind price per stone will depend on the size, quality, and condition of the material.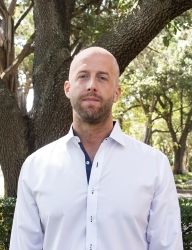 Latest posts by Jerred Morris
(see all)