If you're new to this rock-collecting hobby then you'll need to understand there are more gems, minerals, crystals, and specimens than you can possibly count or remember.  However, you'll naturally fall in love with the ones that intrigue you the most.  More than likely it will be the crystal structure, the configuration of the crystals, or the vibrant color that drives your passion for the stone.
One great tool to use as a beginner rockhound is my "How to Identify" series. You can search for the stone or mineral you believe you have in your possession and apply the guided activity for identifying your rock or mineral.  If you run into any issues or you narrow it down to two stones then contact me directly and I'll help you finalize the identification.
Here's one last resource everyone should take advantage of, your local rock and mineral show.  These are held once a year and provide a great opportunity to expose yourself to hundreds of rocks, minerals, gems, and crystals.  I believe you'll learn more about this hobby at rock shows than you can learn in a class.  Plus they're typically free and loads of fun.
If you're not sure how to find your local rock and mineral club then use the "explore by state" page to locate your state and club.
Names of Green Minerals and Crystals
I've spent years digging for rocks and minerals in the lower 48 states plus attending the Tucson Gem and Mineral Show.  As my knowledge about rocks has accumulated, I've naturally come to appreciate certain gems and minerals.
Here is my favorite list of green rocks, subject to change of course.
Aventurine
Aventurine is fairly common and easy to acquire or discover on a dig site.  That's why I have it on my list of green rocks and minerals.  It's a mineral that anyone can enjoy and the internal sparkles and glittery appearance make it a favorite among junior rockhounds. When attending a rock and mineral show you'll find aventurine in shades of green – ranging from light green to deep, dark green.
Properties:
Mohs Hardness: 6.5 – 7
Vitreous luster
Uses:
Building and landscaping
Making jewelry and ornaments
Chlorite
Chlorite is fairly common but most rockhounds wouldn't go looking for it because it doesn't offer much by itself.  Now add in a quartz crystal and we have something to talk about.  As you can see above the chlorite inclusions make for a dramatic impression and provides the owner looker a glimpse into a foreign world.
In most cases, the chlorite is usually intermixed with other minerals and can be costly to separate, which limits its use.
Properties:
Relatively soft, with a silky texture
Mohs hardness: 2 – 3
Specific gravity: 2.6 – 3.3
Refractive index: 1.57 – 1.67
Uses:
Minor decorative or construction applications
Chrome Diopside
Chrome diopside is an olive to neon green colored gemstone. It's part of the pyroxene mineral group and is known for its vibrant, dark green color caused by the stone's traces of chromium.
Diopside is an affordable alternative to more expensive green gemstones like chrome tourmaline, emeralds, and tsavorites.
Properties:
Mohs hardness: 5.5 – 6.5
Vitreous – dull luster
Specific gravity: 3.3
Refractive index: 1.6 – 1. 7
Uses:
Jewelry Making
Specimen collections
Chrome Tourmaline
This is a stunning gemstone when the crystal is highly transparent and the small traces of chromium and vanadium cause a vibrant green color.  A lot of gem dealers talk about or label their tourmalines chrome green but a real chrome tourmaline is fairly rare, especially in larger sizes.
If you can afford it, this is a must-have in your crystal collection.
Properties:
Mohs hardness: 7.0 – 7.5
Specific gravity: 3.0 – 3.2
Density: 2.82 – 3. 32
Vitreous luster
Double refractive
Uses:
Jewelry application
Specimen collectors
Emerald
The beautiful green-to-blue-green gemstone has been prized since antiquity. Emerald is a variety of the mineral beryl and is often found in a deep, lush green color. Its color is caused by trace amounts of chromium and sometimes vanadium.
Properties:
Mohs hardness: 7.5 – 8
Vitreous luster
Specific gravity: 2.8
Uses:
Used in Jewelry
Specimen collectors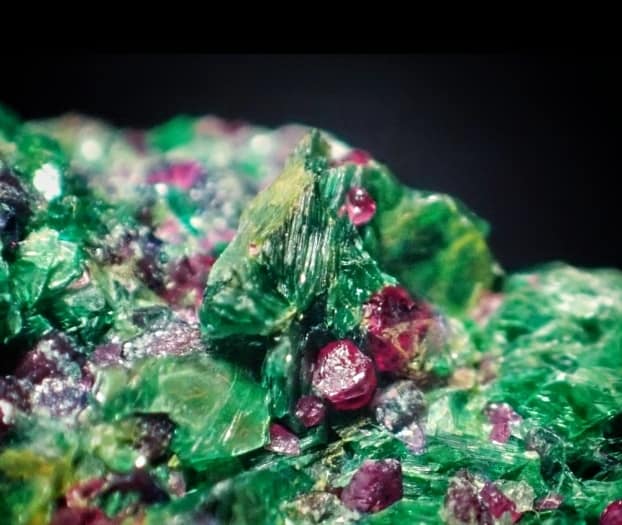 Fuchsite
Fuchsite is a green variety of the mineral muscovite and is a member of the mica group. It's created through crystallization, and its green color is due to the presence of chromium.
Fuchsite is typically found in shades of green and is often found in association with quartz, feldspar, ruby, and tourmaline.
Properties:
Mohs hardness: 2.5
Uneven fracture
Vitreous – pearly luster
Specific gravity: 2.98 – 2.9
Uses:
Jade
Jade contains jadeite, a vivid, deep green mineral. It's found worldwide and prized by collectors originating from southeast Asia.  It is one of the most durable stones and that is why it's on my list of favorite green minerals.  If you ever have an opportunity to see and touch ultra-high-end Jade then I recommend you take the opportunity.  When holding this gemstone you'll notice you want to stare at it for extended periods of time.
Properties:
Mohs hardness: 6 – 7
Splintery fracture
Brittle tenacity
Specific gravity: 2.9 – 3.4
Refractive index: 1.6 – 1.7
Uses: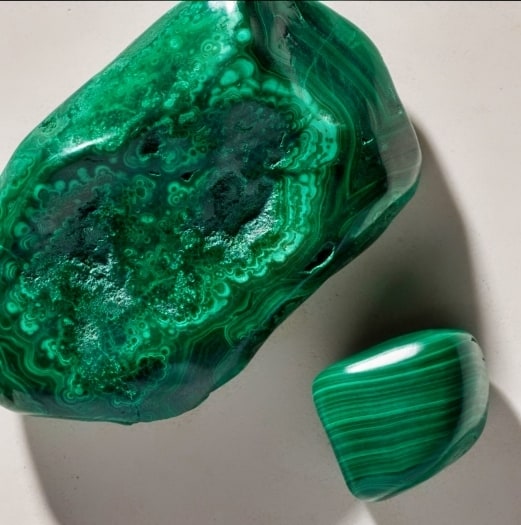 Malachite
The stunning green Malachite consists of copper carbonate hydroxide mineral. It's formed through the alteration of copper ore and is found in all sorts of shades of green, ranging from light to dark, and is often banded in various colors. Its green color represents growth, renewal, and fertility, making it a popular choice for those looking to bring balance and harmony into their lives.
Properties:
Mohs hardness: 3.5 – 4
Specific gravity: 3.6 – 4
Refractive index: 2
Adamantine – vitreous luster
Uses:
Making jewelry,
Carvings and sculptures
Decorative items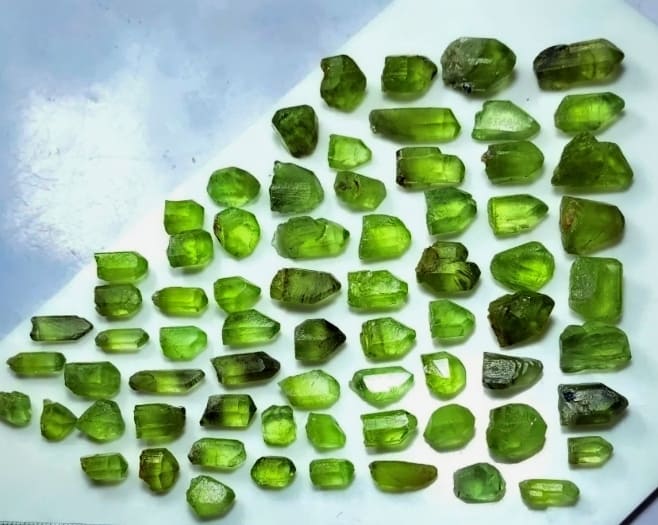 Peridot
You'll find Peridot in volcanic basalt and igneous rocks. This beautiful lime-green gemstone is part of the olivine mineral group and is mostly used in jewelry.  In my opinion, some of the highest quality peridots come from Afghanistan.
Properties:
Mohs hardness: 6.5 – 7
Vitreous – oily luster
Refractive index: 1.64 – 1.70
High melting point
Uses:
Jewelry
Specimen collectors
Serpentine
Serpentine is a group of minerals ranging from pale green to deep green and even black. It constitutes antigorite, lizardite, and chrysotile minerals.
Due to its beautiful color and durability, serpentine is often used in jewelry. Additionally, its unique aesthetics make it a perfect material for decorative pieces.
Properties:
Mohs hardness: 3.5 – 4
Greasy – vitreous luster
Specific gravity: 2.2 – 2.9
Brittle fracture
Uses:
Hardstone carvings
Construction of building materials
Common and Rare Green Rocks and Minerals
Green rocks and crystals are an exciting and diverse group of minerals sought after by rock hounds, jewelry manufacturers, and commercial entities.   Whether you're looking to add a unique piece of jewelry to your collection or a rare crystal to your specimen collection, green minerals are a must-have.
With so many possibilities, it is no wonder that green rocks and minerals have been treated as treasures for centuries.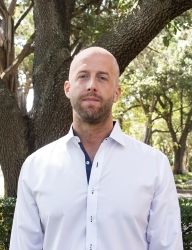 Latest posts by Jerred Morris
(see all)