Megalodon (Carcharocles megalodon)are an extinct species of the Megatooth Shark (Otodontidae). It is considered to be the largest shark and fish that's ever lived.
Fossils of Megladons have been found dating from around the early Miocene Epoch that began over 23 million years ago up to the end of the Pliocene Epoch (2.58 million years ago).
The word "megalodon" is a combination of two Greek words, meaning "giant tooth."
While Megalodon teeth are similar to those of modern white sharks, they differ in several ways. For one, they're larger and thicker than white sharks. The serrations on each tooth occur at regular intervals, and they have a darker, chevron-shaped region near the tooth's root.
Now that you have a basic understanding of the Megalodon let's dig into the different locations where you can find them and the variations of teeth that have been found.
Where To Find Megalodon Teeth
Megalodons once lived in most of the oceans on the planet, and their teeth are found in marine coastal deposits worldwide. In the US, they're mostly found along the southeastern Atlantic coast of Georgia, Florida, North and South Carolina, and Maryland.
Most people don't know this fact but megalodon shed their teeth frequently as they become damaged or worn from feeding. Because teeth are relatively hard, it makes fossilization relatively easy and that is why you see so many amazing examples.
Fun fact: adult Megalodon might have shed upwards of 1,000 teeth in its lifetime.
Megalodon Teeth North Carolina
Fun fact: In 2013, North Carolina designated Megalodon teeth their state fossil.
If you're looking to add these to your collection and you want to find your own then the coastal area of North Carolina is a great place to start. There are plenty of locations and countless examples of people finding amazing Megalodon teeth.
Millions of years ago, the sea levels were much higher, meaning much of coastal North Carolina was once covered by the Atlantic Ocean. These fossil teeth are frequently found in rivers, along beaches, and by scuba divers off the coast of North Carolina. The best time to look for fossils is right after a hurricane because it churns up the sediment and reveals all sorts of fossils and shark teeth. Think of it this way, Mother Nature does all of the digging for you and you do all of the discovering and collecting.
Megalodon Teeth South Carolina
South Carolina is another great location because it is very similar to North Carolina when it comes to geographic location. The coastal areas present a great opportunity to hunt and dig for Megalodon teeth.
Morgan River in Beaufort is an excellent location to find these huge teeth.
Copper River runs through Charleston, North Charleston, Mt. Pleasant, Monchs Corner, Hanahan, and Goose Creek. The banks in these areas might be promising sites to hunt for Megalodon teeth. Black Water Rivers are ideal locations in South Carolina to find these beautiful fossils as well.
The Chandler Bridge Formation in Summerville is a well-known spot for fossil hounds to dig and collect fossils and shark teeth. Collectors have seen and collected fossils dating as far back as the Oligocene period.
Megalodon Teeth Maryland
Believe it or not, Maryland has decent locations for digging and collecting Megalodon teeth. The Calvert Cliffs and other nearby Mocen exposures are the prime locations for shark teeth. While some of these highly sought-after teeth can reach up to 7 inches, most of the Megalodon teeth in this region range between 1 to 3 inches. However, larger ones can also be found.
If you hope to find something bigger, you'll have a better chance of searching in the younger Pliocene exposures further south in the Atlantic coastal plain.
Aside from Calvert, hunters can check out Choptak and St. Marys formations. However, it's possible to find both C. megalodon and C. subauriculatus in these areas.
Megalodon Teeth Florida
Right behind North Carolina, Florida provides plenty of locations and a good chance you'll go home with a nice fossil specimen. While Peace River isn't a beach location, this central Florida river is known as the BEST place in the state to find Megalodon teeth. The currents in Peace River regularly deposit new fossils, including shark teeth, which makes the river a worthwhile area to search.
Megalodon Teeth Virginia
You can add Megalodon teeth to great things you can find in Virginia. I thought Virginia was known for coal and the amazing song "Rich Men North of Richmond" but you can find some killer examples of Megalodon teeth in the coastal areas. Chippokes Plantation in Surry, York River in Williamsburg, and Westmoreland on Virginia's Northern Neck are the most ideal and key locations to find shark teeth in Virginia.
Megalodon Teeth Australia
Researchers discovered a huge shark cemetery on the ocean floor in Australia. During this trawl investigation, 750 fossilized shark teeth were found from several modern and extinct predatory species, including the massive Megalodon.
While that location isn't going to be easily accessed by anyone other than trained, professional divers, we can hope some wash ashore. Cape Range National Park near Exmouth was a feeding ground for some of the largest prehistoric predators that once lived in the planet's oceans. Museum scientists uncovered 38 teeth belonging to Carcharocles megalodon.
How Big Are Megalodon Teeth?
Megalodon teeth can reach up to 7 inches in length and when you compare them to white sharks they're considered enormous. Can you imagine the type of prey they would eat or better yet swimming with one of these gigantic sharks?
Megalodon Teeth Age
Fossils attributed to the incredible Megalodon have been found dating from the early Miocene Epoch to the end of the Pliocene Epoch. This means that any Megalodon teeth we find today can be between 2.58 to 23 million years old!
While finding Megalodon teeth can seem daunting, it happens regularly in some areas more than others. These teeth can range between 1 to 7 inches in size and are amazing specimens to add to any rock or fossil collection.
Take a bite out of that information, happy hunting fossil hounds!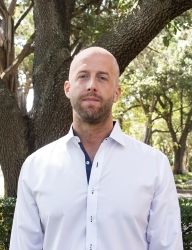 Latest posts by Jerred Morris
(see all)