Despite the stone's name, Rainforest Jasper isn't a true Jasper. Instead, it's Rhyolite containing small Spherulites and semi-crystalline areas. These are the dots or sections of different colored minerals inside of the Rhyolite matrix.
One benefit of Rhyolite is the high silica content. Lapidary artists enjoy cutting these rocks because they take a high polish which enhances the small Spherulites.
FAQ For Rainforest Jasper
Here's a fun fact, Rhyolite often occurs in association with Thunder Eggs but is not limited to areas where Thunder Eggs are mined. In different regions of the world, Rainforest Jasper can take on a couple of different names such as Agatized Rhyolite, Green Rhyolite, and Spherulitic Rhyolite.
Most of the commercial supply comes from Mt. Hay, 23 miles west of Rockhampton in Central Queensland. Rainforest Jasper was initially mined commercially during the late 1960s, and it remains a popular gemstone with collectors and lapidaries worldwide.
The Rhyolites from Mt. Hay's extinct volcanoes are dated at about 120 million years old. These stones occur in shades of green, brown, cream, and red but the most interesting characteristic of this "Jasper" are the spheres which display random colors against the greenish-brown matrix.
Rainforest Jasper is cut into cabochons, beads, spheres, ornaments, and furniture. Most lapidaries enjoy working with the material because it's relatively inexpensive, it can be sourced in larger quantities, and it takes a high polish.
Jasper comes in a variety of spotted chalcedony but Rainforest Jasper doesn't make the cut. You might be thinking, why do they call it Jasper when it's not Jasper? Well, the rock and mineral industry is known for using names and descriptions that don't line up with the chemical makeup of the rock or mineral.
Rainforest Jasper or Rhyolite is a type of extrusive igneous rock formed on the Earth's surface by molten magma after a volcanic eruption. This stone belongs to the group of Rhyolites that are collectively known as Orbicular Jasper. These highly silicified Rhyolites with minerals (typically Feldspar and Quartz) crystallize in needle-like crystals that fan out in a circle to create the spots. Orbicular Jaspers can be dull or brightly colored depending on the minerals and trace inclusions that are present.
How Does Rainforest Jasper Form?
Rainforest Jasper is a type of Rhyolitic lava that can be found in some volcanic areas. Throughout the solidification process of the stone, gas bubbles are stuck inside and become filled with siliceous materials. It's incredibly common to see patches of Quartz and other minerals inside these beautiful stones. Depending on where they're mined, they may contain Nepholite and Feldspar.
How To Identify Rainforest Jasper
Rainforest Jaspers have a brown-green background with small spheres filled with different colors. Some novice rockhounds will say it resembles Granite. When identifying this rock, you'll be depending on a visual inspection.
That means you'll need to spend a decent amount of time at rock and mineral shows to perfect your rock identification craft.
Rainforest Jasper has a hardness of 6 to 6.5 on the Mohs Hardness Scale. These stones are opaque and can be of various colors, including green, grey, and cream. Occasionally you can find red and brown hues.
Performing a streak test can be damaging to the specimen, but if you did one on this Jasper, the streak would be white. The luster is vitreous, and the stone produces a conchoidal fracture. Another thing to look for is the stone's specific gravity, which is 2.7-2.7.
Where Is Rainforest Jasper Found?
Rainforest Jasper is mined in shallow pits in Queensland, Australia. While most of the country is a dry desert, Queensland offers an ancient rainforest. Because Rainforest Jasper has a high silica content, it often features spots of pure Quartz. Some say these spots resemble little pools of water that are hidden within the forest.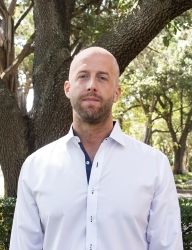 Latest posts by Jerred Morris
(see all)