So many different types of Jasper, it can be difficult to identify them correctly and even harder to value them. Some of these varieties are hard to find because the available material is limited due to the mined areas running out of Jasper.
If you're looking to add Jasper to your collection then I would start with the varieties listed below because they're somewhat affordable, they look amazing, can be used in jewelry, and will retain their value.
Make sure to click the links provided below if you want a more detailed description of the Jasper you're interested in. These links will take you to additional pages with information pertaining to 'how to identify", "how to value", and other frequently asked questions.
If you still can't find the answer to your questions then feel free to join my newsletter "Pick & Shovel". You'll get free and unlimited access to me and I'll do my best to ID your stones and answer your questions.
Different Types of Jasper
There are 100s of types of Jasper, but we've narrowed this list down to some of the most popular varieties. Before you start looking through the pics and descriptions you might want to ensure you have authentic Jasper and the best way to do that is by identifying it correctly.
Deschutes
Deschutes Jasper is similar to Biggs Jasper. So much so that it's often misidentified. The most significant difference between the two types of Jasper is the picturesque landscape patterns are much more detailed in Deschutes than Biggs. However, there is a tighter pattern exhibited in Deschutes Jasper.
Bloodstone
Heliotrope, or Bloodstone, is a unique and distinctive Jasper that's truly captivating. It's a form of Chalcedony and can be recognized by its deep green hues and red specks or patches resembling blood droplets. Bloodstone's striking appearance makes it such a highly sought-after specimen among jewelry enthusiasts and gem collectors.
Coquina
Coquina Jasper is a stone of many names. You can find it listed as Cobra Jasper, Indian Script Stone, Arabic Scripts Stones, or Script Stones.
This variety is made of shells or coral embedded in sedimentary rocks. The coral or shells are responsible for giving the stones distinctive patterns, making each specimen unique, with no two stones being the same.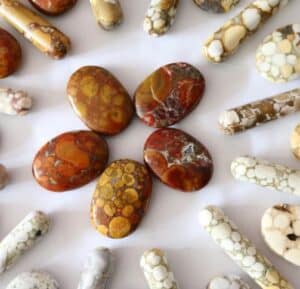 King Cobra
King Cobra Jasper is an incredible Orbicular variety that stands out among the rest. Many rockhounds and collectors are in awe of the beautiful orbs of King Cobras that are created by spherical inclusions of radial aggregates, which are needle-like accumulations of crystals!
The spaced patterns displayed in oranges, reds, browns, and yellows are true attention grabbers.
Carrasite
Carrasite Jasper is a Porcelain variety found in the Owyhee Mountains of Oregon, along the Oregon-Idaho border. This area is well-known for producing high-quality Jasper. Carrasite Jasper looks similar to Morrisonite Jasper, and the two are commonly confused.
Willow Creek
Willow Creek Jasper forms in the center of giant Thunder Eggs. While not all Eggs contain a prize for all the hard labor, it pays off when you find a Willow Creek specimen. The subtle pastel colors creating squiggly line patterns or occasional orbs are beautiful. The high polish, lack of impurities, and fractures are why Willow Creek Jasper is in the Porcelain family.
Rainforest
Rainforest Jasper isn't actually a true Jasper; it's a Rhyolite with small Spherulites and semi-crystalline areas. Dots or sections of different colored minerals are found within the Rhyolite matrix.
One benefit of Rhyolite is the high silica content. Lapidary artists love cutting Rainforest Jasper because they take a high polish and make excellent pieces of artwork.
Red
Red Jasper varieties come in one color: red. There are various types of Red Jasper found throughout the world, with prime locations in Indonesia, India, Madagascar, Australia, Brazil, Russia, and the US.
Cherry Creek
Cherry Creek Jasper or Red Creek Jasper is primarily sourced from the Cherry Creek Mine in China. Each specimen displays various colors, including orange, red, yellow, blue, green, or brown.
Dalmatian
I doubt Cruella DeVille will be hunting these stones down to make a coat. Dalmatian Stones or Dalmation Jasper is a variety of white Feldspar Quartz dotted with black inclusions of Arfvedsonite.
Kambaba
Kambaba Jasper is a blue-green fossil comprised of prehistoric algae that are billions of years old. The black swirls and bluish-green color are believed to be caused by the fossilized algae colonies.
Mookaite
Mookaite Jasper is a beautiful Jasper variety that can only be found in one region of the world. Mookaite is frequently referred to as a mineral; it's a rock. This is because the stone is comprised of several different substances and minerals.
Ocean
Ocean Jasper displays rare shades of blue, black, red, pink, yellow, orange, and gray. The orb-like shapes, intricate patterns, and waves of color make it a favorite of lapidary artists. This is especially so for specimens containing specks of shimmering Druzy Quartz.
Owyhee
Owyhee Jasper is another famous stone among lapidary artists and rockhounds. They're known for their incredible depictions of mountain and desert sceneries. Owyhee Jasper contains minor pitting and takes a high polish, which is excellent for jewelry.
Imperial
Imperial Jasper is considered to be one of five fine Jaspers by collectors and gemologists. The other four are Morrisonite, Bruneau, Willow Creek, and Blue Mountain Jasper. No pitting or defects are found in these beautiful gemstones.
Biggs
Biggs Jasper is an opaque, dark brown variety of Chalcedony with patches or veins of white and yellow feldspar and quartzite. You'll find that Biggs Jasper often displays circular patterns formed by concentric circles of mineral deposits.
Types of Jasper Rock
I did my best to provide popular varieties of Jasper and I'll continue to update this list when I find new varieties of Jasper. If you want to see more and learn more about these varieties then I highly recommend you attend the upcoming Tucson Gem and Mineral Show. You won't be able to find a better show with every variety of Jasper known to man.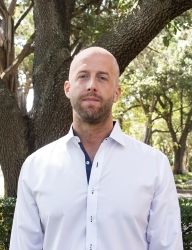 Latest posts by Jerred Morris
(see all)